Posted in
Apartments
@
Sep 21st 2014 4:14pm
- By Admin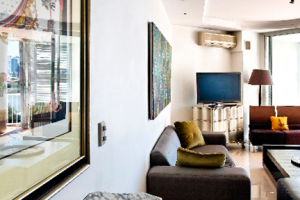 The dates are fast approaching for the G20 Summit being held in Brisbane November 15 and 16 2014. Don't delay in booking your serviced apartment accommodation at Founda Gardens Serviced Apartments to ensure you get the type and quality of accommodation you require. Founda Gardens Serviced Apartments offers well-appointed luxurious accommodation suitable to the business and holiday traveller.
During the G20 Summit, Brisbane accommodation will be at a premium and you'll want to secure quiet, private, centrally located accommodation Founda Gardens Serviced Apartments offers all that and more with self-contained two and three-bedroom apartments within walking distance of major attractions, restaurants, cafes and the CBD. Founda Gardens Serviced Apartments are located just outside the restricted area for the G20 Summit – only 2.9km from the Brisbane Convention and Exhibition Centre, in Auchenflower near the Wesley Hospital.
In addition to the summit, the G20 Cultural Celebration program runs from October 24 to November 16, featuring art exhibits, lighting displays, and much more. Founda Gardens Serviced apartments will provide a central base for you and your group. At the end of a long day, why not have a refreshing swim in the pool or enjoy a relaxing BBQ. Founda Gardens Serviced Apartments provide free car parking and free Internet access in the building lobby, and many of the apartments offer beautiful river and city views. In addition to providing ideal business and holiday accommodation for the G20 Summit, Founda Gardens Serviced Apartments is only a stones throw away from Suncorp Stadium Toowong Shopping Centre, and more than two dozen restaurants, pubs, and cafes. Everything you need is right outside your door.
If you are visiting Brisbane during the G20 Summit 2014 and have not yet made your accommodation arrangements, book online today. We have a limited number of apartments available and would love to be your host during this exciting time. Contact Founda Gardens Serviced Apartments at 07 3871 0888 or book online here.