Posted in
Attractions
@
Dec 19th 2014 3:05pm
- By Admin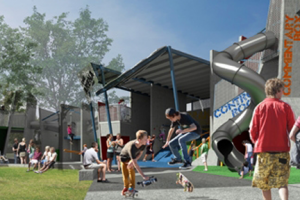 Are you stuck for ideas to entertain your kids when staying in Brisbane over the summer holidays? Look no further as our beautiful River City of Brisbane has an abundance of family fun just waiting for you to discover. There are a multitude of activities and attractions guaranteed to keep everyone happy.
Why not visit Riverlife Adventure Centre located at the base of the Kangaroo Point cliffs, right on the River. Hire some kayaks or test your balance and strength with some stand up paddle boarding. For those happier to stay high and dry, grab some rollerblades, scooters or bikes and make the most of Brisbane's many scenic bike paths.
Animal lovers will crave the opportunity to have their photo taken while cuddling a koala at Lone Pine Koala Sanctuary. Mirimar Cruises offer daily cruises to Lone Pine from the Cultural Centre in the heart of Brisbane. You will have the chance to hand feed kangaroos and emus as well as experiencing an authentic Australian sheep dog and sheep shearing show.
Be sure to visit Frew Park, Milton whilst in Brisbane. This exciting initiative by the Brisbane City Council to rejuvenate the former Milton Tennis Centre and Milton Bowl site into a 3.5 hectare inner city parkland is now complete, and is less than 1km from Founda Gardens Serviced Apartments. The Park incorporates the Roy Emerson Tennis Centre with six tennis courts, amenities and seating and also has a food and beverage outlet to service park visitors.
There are shaded picnic areas and barbecue facilities as well as 'The Arena' playground, which has been designed for children aged from 10-15 years combining architectural and play components presenting a play space based on the former tennis court grandstand.
Founda Gardens Serviced Apartments in Milton is the perfect base to explore all of the above-mentioned activities. Rates have been slashed by over 40% off the standard one night rate for all one-week stays in two bedroom apartments. Reduced rates on two bedroom apartments for one-week stays apply throughout December 2014 and January 2015. Founda Gardens Serviced Apartments provides luxurious and spacious two and three bedroom self-contained apartments with many offering views of the Brisbane River and City. Our close proximity to the CBD, Southbank as well as a multitude of great restaurants, cafes and bars just a short stroll away in Park Road, Milton makes Founda Gardens Serviced Apartments the perfect location to base yourself whilst enjoying fun family times in Brisbane.
Book online or contact Founda Gardens Serviced Apartments on 07 3871 0888