Posted in
Apartments
@
Jul 17th 2014 12:12pm
- By Admin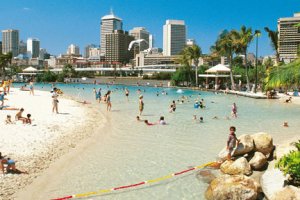 Large family accommodation in Brisbane is hard to find. Want to be close to the city and public transport, with lots of things to do to keep everyone occupied. Founda Gardens apartments are located in Auchenflower which is just 2.5 kms from the city centre. Perfectly positioned being just outside the city but close to many major attractions. Free undercover car parking is included. The bus is 200 metres walk from Founda Gardens and leaves for the Brisbane city every 15 minutes.
The bi-centennial bike / walkway is also an easy 200 metres walk away and it is a beautiful way to get into the city. Or perhaps walk 900 metres to the closest City Cat stop (Brisbane river ferry) to get your family into the city, the cultural centre or South Bank Parklands with its many free activities for families. Because Founda Gardens apartments are located so close to the action there are 3 bike stations within 500 metres walk. Check out their website as this is a great adventure for families to do especially with such easy access to bikes and the major Brisbane bikeways.
Although Founda Gardens apartments are fully self contained with a very well equipped kitchen if you want to treat the family or just could not be bothered cooking then there are many cafes and restaurants within walking distance. Also two shops are close by, again within easy walking distance to get the basic groceries for your stay. If shopping is more your adventure then Brisbane city centre is where you should spend some time. The best way to access Brisbane city shopping is by bus or if you plan on buying a lot there are many public car parks in the city. Although parking anywhere within the city is quite expensive. Indooroopilly shopping town is close by and many free car parks available. This shopping centre has just recently had a major refurbishment and is quite special to see.
Contact Founda Gardens by phone on 0414 914 745, email [email protected] or check out the website and book online. www.foundagardens.com
Ring us today to book your next family accommodation in Brisbane at Founda Gardens Apartments.