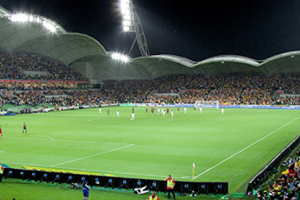 The much-anticipated AFC Asian Cup 2015 is due to kick off in Melbourne this Friday 09 January 2015 with Australia's Socceroo's playing against Kuwait at the Rectangle Stadium.
This prestigious sporting event is held every four years and is a major international draw card for Australia as it only joined the Asian confederation in 2007. Matches are being played across the five host cities of Melbourne, Sydney, Brisbane, Canberra and Newcastle over 23 days and 32 games will be played between the top 16 football nations in Asia. It is expected to attract an 800 million-television audience worldwide.
Our beautiful river city of Brisbane is host to seven of these matches from 10 January through to 22 January and includes a Socceroo's match and a quarter final. All Brisbane matches will be played at Suncorp Stadium. For the full match schedule and ticket sales, please refer to www.afcasiancup.com
Do not delay in securing your accommodation in Brisbane for this exciting event. Founda Gardens Serviced Apartments, Auchenflower are only 2kms from Suncorp Stadium, making it the perfect location to base yourself during the AFC Asian Cup. Located only a short stroll to the restaurant and café precinct of Park Road Milton and Milton Train Station, 2kms from the CBD, close to bus stops and the Regatta City Cat stop, it's the perfect location to stay to avoid jumping in the car every time you go out. Southbank Parklands and the retail shopping centres of Toowong Village and Indooroopilly Shopping Centre as well as the CBD will ensure that you will not be short on retail therapy!.
Offering luxurious, spacious two and three bedroom fully self-contained apartments, some with Brisbane River views, Founda Gardens Serviced apartments also offers free undercover secure parking and free wi-fi in the lobby. Sit back and enjoy the landscaped riverside gardens, have a barbecue or take a refreshing dip in the pool.
Our very friendly Resident Managers dedicate themselves to ensuring that your stay at Founda Gardens Serviced Apartments is as comfortable and enjoyable as possible. Rates have been slashed by over 40% off the standard one night rate for all one-week stays in two bedroom apartments throughout January 2015 so what are you waiting for?
Book online or contact Founda Gardens Serviced Apartments on 07 3871 0888